Remember how
I accidentally broke my very old laptop and bought a new one in a rush
? Well I sold that one and got myself this sleek baby!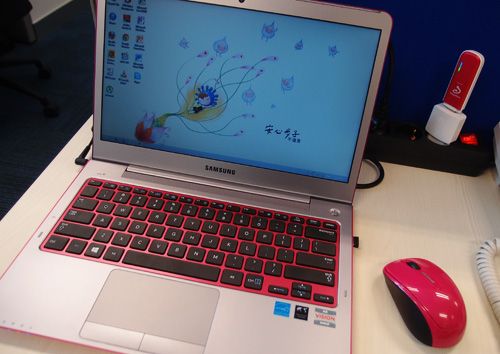 ( blah blah blah )
I LOVE IT. I just love it. My dad said not to buy a Samsung laptop because Samsung is not known for their laptops. Clearly my dad lives in the past so I ignored his advice and went with my guts. My guts said it is time for a pink laptop in my life. It is not that expensive, about $680, so I don't expect too much from this laptop, but it is definitely MUCH BETTER than my old bulky ASUS. And it is so much better looking, too.
I got a lot of bonuses from buying this (I'm such a marketing strategy victim, I know but still!). I got a licensed Microsoft Office pre-installed, a laptop pouch (wanted the pink one but they ran out so I got the black one), a mouse (which I chose to upgrade to a wireless one with extra $10), and a cashback of $5. Look at that tiny matching cute pink mouse. I just can not handle this cuteness!
( one more pic and a note on my toshiba laptop )
Current Mood:
ecstatic